The true breakfast of champions.
Happy Olympics Fit U! Ever wondered what and how much Olympians eat to fuel their training?
With all the work they're putting in, you can bet they're feeding themselves ample calories to get the job done. Let's get one thing straight, Michael Phelps can eat 10k calories a day, you should proooobably not be doin that (unless you too, just won 25 Gold Olympic medals). But just because you're not eating as many calories as the pros, doesn't mean you can't be inspired by them. Channel your inner Olympian and complete this track workout. Then, refuel with one of the delicious meals below.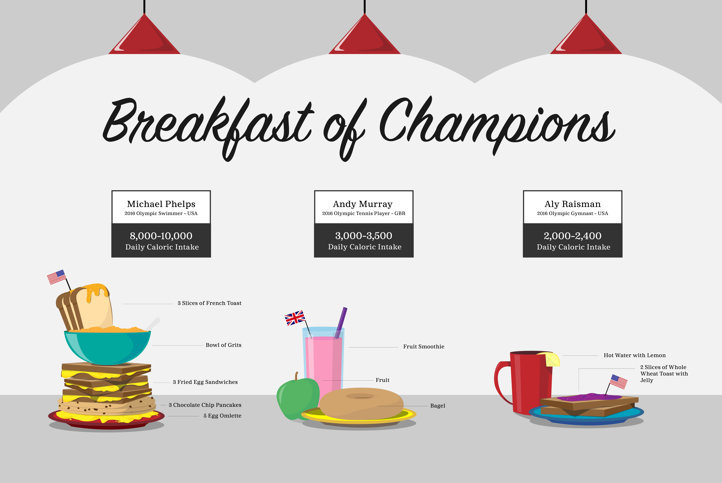 Michael Phelps
Phelps swims laps on laps on laps. He's also 6'4″. He eats A LOT. You can eat like Phelps (minus a few thousand calories).
Andy Murray
Andy's running cross court, hittin ballz, and eating to fuel each swing. You'll LOVE these Andy inspired meals 😉
Aly Raisman
At 5'2″, 115 lbs, Aly doesn't need as much food as her fellow Olympians. Eating these toasts will make you an all-star gymnast, we swear.
Check out these articles too:
What It's Like To Be An Olympic Trial Athlete (In College)
8 Healthy Donut Recipes You Need To Try
Healthy & Paleo Cinnamon Rolls
8 Unbelievably Easy Ways To Eat Bananas For Dessert